The start of a brand-new year should give us something to look forward to. But many folks don't feel good about where their finances are headed.
According to Bankrate's Financial Outlook Survey, 55 percent of Americans don't expect their financial situation to improve in 2019. This includes 12 percent who think their situation will be worse and 44 percent who think it will stay the same.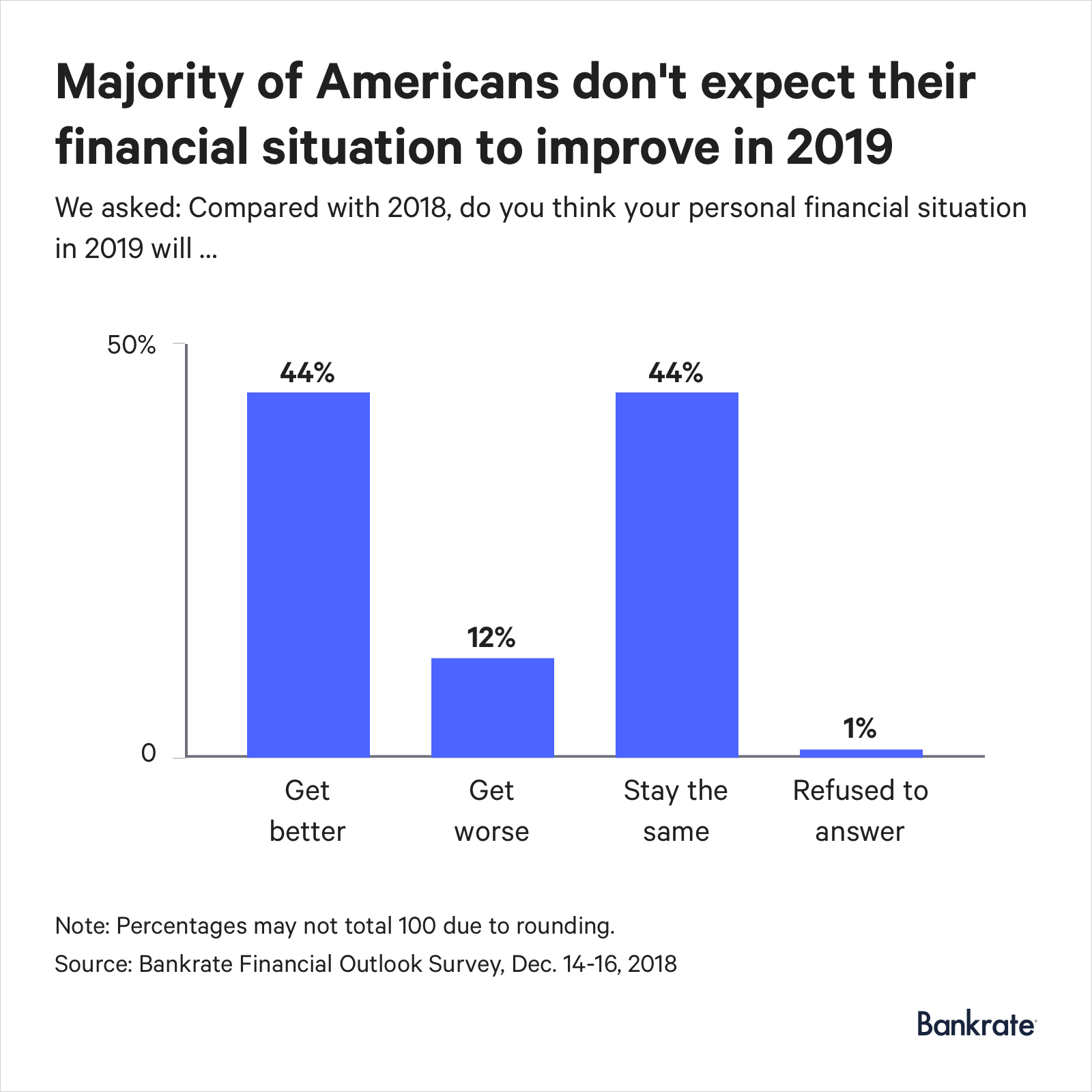 Business owner Steve Silberberg is among those who expects their financial situation to get worse this year.
Silberberg guides groups interested in getting fit and backpacking through national parks and forests. But because of the government shutdown, many parks have closed and some facilities aren't accessible at all.
He doesn't qualify for back pay, so Silberberg has had to take on a temporary job writing software.
"Let's say I was writing software for a living, that was it, and I didn't even have a business dependent on the government," Silberberg says. "I still think my situation would be worse because the increase in wages won't cover the extra expenses I will have to put towards health care, just anything that taxes are going to stop covering."
Consumers point the blame at Washington
Silberberg isn't the only one saying that political affairs are affecting their financial lives. Among the respondents who think their financial circumstances will get worse in 2019, 49 percent say that's due to the work being done by political leaders in Washington.
"If you think about, first of all, just that in general, the erosion of confidence in institutions and then you think about essentially developments in recent years with respect to government shutdowns, the divisive nature of national politics and the lack of the ability on the part of elected leaders to forge productive and constructive solutions to major problems — it is understandable why people may feel that way," says Mark Hamrick, Bankrate's senior economic analyst.
Aside from political gridlock, more debt and an increase in the cost of living are two other common reasons the financial outlook this year for many Americans seems bleak. When asked what will cause their financial situation to get worse this year, nearly 1 in 5 say rising interest rates.
NEGATIVE FACTORS
RESPONSE
Work done by political leaders in D.C.
49%
Cost-of-living increase
38%
Having more debt
37%
Some other reason
32%
Less money from savings/investments
21%
Rising interest rates
19%
Less money at work
18%
Note: Among respondents who expect their finances to get worse compared with 2018. Respondents could select more than one response.
Source: Bankrate Financial Outlook Survey, Dec. 14-16, 2018
Brent Weiss, co-founder of Planning Facet Wealth in Baltimore, says it's important to take what's happening in the political arena and the broader economy with a grain of salt. Focus on what you can control, he says.
"I can't do anything about trade or the economy or a government shutdown, but you know what I can do? I can start to pay down that debt that I have," Weiss says. "I can start to look at my cash flow and my lifestyle. Oh, I can start to save for retirement and take incremental steps to do it."
Millennials are optimistic about their finances
Not everyone expects 2019 to be a bad year for their personal finances. Compared with their parents and grandparents, millennials are more likely to think positively about the state of their financial future.
Nearly 60 percent of young adults between the ages of 18 and 37 say their financial circumstances this year will get either somewhat better or much better. Given the crushing amount of student debt they're managing, to some people, that may be surprising.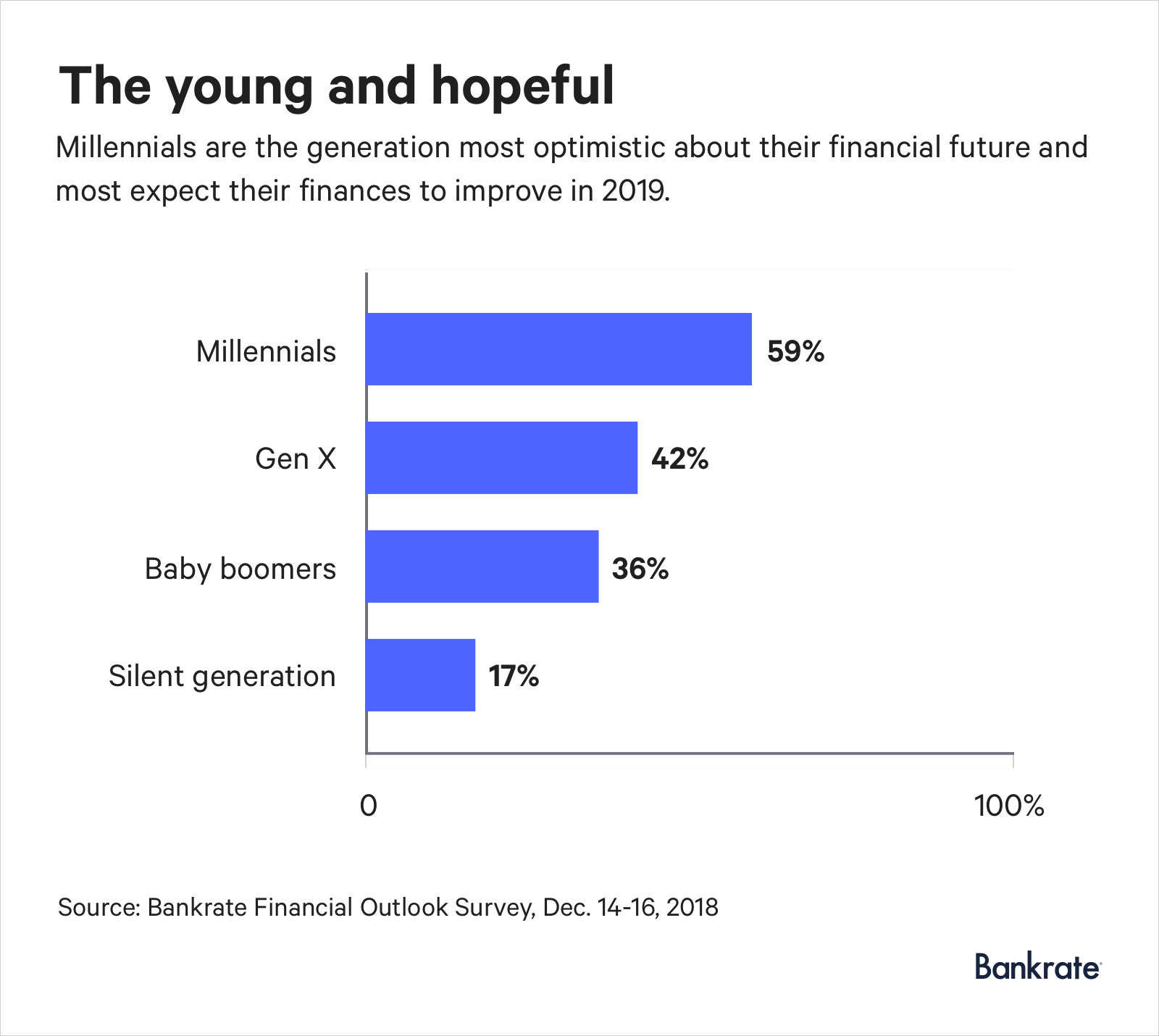 But there's hope for the biggest generation in the U.S. labor force. As a recent Bankrate survey shows, millennials are more likely than anyone to get a raise by taking on new responsibilities at work or getting promoted. Many of them have started their own companies or plan to do so at some point, Weiss says.
Hamrick adds, "The good news for millennials is that they represent the most upwardly mobile cohort in this society, particularly for those who are qualified for employment and are well-trained or well educated."
There's much to admire about millennials' positive mindset. But Weiss notes that they could fall short of achieving their goals without a solid plan they can implement.
"Where I see a lot of millennials challenged is they have these amazing goals, but they don't really have a plan to achieve them and that will eventually catch up to them," Weiss says. "So the advice I would give to millennials is it is amazing that you have these goals and yes you can achieve them, but understand, break them down into more manageable action plans to start taking the next right step to achieving these goals because it won't happen overnight."